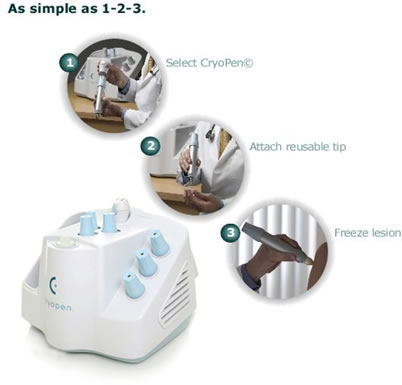 The CryoPen system provides a means of freezing tissue without the use of cryogenic liquids or gases, such as liquid nitrogen, carbon dioxide, or nitrous oxide. The system consists of hand-held freeze modules, a refrigeration unit, and reusable tips. The system will deliver effective temperatures for tissue ablation. The CryoPen system is designed to ablate tissue by the application of extreme cold temperature.
The CryoPen offers physicians and patients a safer, more convenient alternative to liquid nitrogen, carbon dioxide, and nitrous oxide.
The CryoPen also makes cryosurgery safer and easier for office staff, who will no longer have to regularly handle and order hazardous gases or liquids mandatory of most traditional methods. Plus, with the CryoPen, the treatment has a minimal scarring and no need for anesthetic.
The CryoPen, which has established American Medical Association CPT codes and can be treated without referral, is used in the treatment of:
warts/plantar warts
lentigo
dermatafibroma
seborrheic keratoses
non-recurrent basal cell
molluscum
actinic keratoses
keloids
skin tags
CryoPen Advantages
No contact with dangerous cryogenic gases or liquids
Immediate treatment without referral
Quiet, patient-friendly, low risk procedure
Simple, safe, effective treatment